A mixture of respect, banter and belonging which does not exist elsewhere!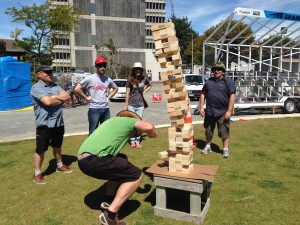 We welcome men from all backgrounds, between the ages of 18 – 45 to #DoMore!
Our clubs encourage members to have LOTS of fun, so week nights end up being better than the weekend!
We offer a way to meet new friends, learn new skills and give something back to your local communities. New and existing members are given the opportunity to take responsibilities within the Table and shape its future. We encourage our members to be active, take an intelligent approach to being a good citizen, accept and display civic responsibility and to promote high standards in both business and professional life. Round Table remains a neutral organisation in regards to the political and religious beliefs of its members. Round Table New Zealand is a National Association of Tables (clubs) based throughout New Zealand, dating back to 1953 .
Most clubs meet up around twice a month, to enjoy a variety of activities and projects. Internationally, over 35,00 people are members of Round Table, across every continent, offering a truly global network for business potential, travel and friendship.
If You Want to Have Fun; Try New Activities; Make New Friends & Put Something Back into Your Community – We Can Definitely Offer You That
"I've raced around Spa Francochamps F1 circuit in a Ferrari, picked wild mushrooms in Sweden and seen Mount Everest" 
Mark,  Christchurch.
Being a mens club, we are able to concentrate on Kiwi blokes well being and the issues that matter to us. Men lag behind women when seeking help for health and personal concerns, our organisation gives us an outlet to share stories, work through our challenges and thrive.  The key to really finding out what it's all about is attending a couple of events. Come and see for yourself at your Local Round Table to find your nearest club. It will be the best thing you have done today and you never know where it might take you.