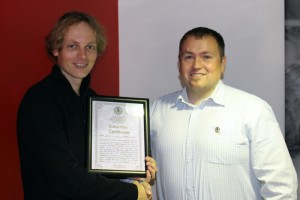 Christchurch Round Table 1 are pleased to welcome James into the club. Having moved back into the city, James is looking forward to making new friends and finding out what Table is about.
He was inducted today at the Wigram Airforce museum by Club President, Mark Smith.  Also in attendance were the Christchurch 41 Club who are pleased to see new members coming into Table and are very keen to help with upcoming projects.
Keep an eye out for the clubs upcoming community fundraiser 'Project Wendyhouse', if you are interested in taking part or contributing to such events, please feel free to contact us.